Celebration De Schark
As long as we celebrate Christmas it is connected to traditions. Rituals, ceremonies and habits are an inextricable part of a deep religious celebration in our society. And each of us connects his own memories to the Christmas celebration.
In 1944 a new tradition started. In Maastricht, in a part of the centuries-old marl caves. Caves, or rather quarries, which were a safeguard during the Christmas of that year for a Christmas Eve Mass for American soldiers who were staying in Maastricht.
Although Maastricht had been liberated from September 13th, it was not quite safe in the region. Particularly not for our American friends, who, far away from their homes, verly likely wanted to celebrate their Christmas Eve.
The Brothers of the Beyart provided a safe and improvised "church" in their cave "De Schark", where, just like 2000 years ago, the birth of Jesus Christ could be celebrated.
This must have been an impressive and emotional Christmas celebration. In an environment, that more often had offered a shelter in an emergency, brothers and civilians were together in solidarity.
After Christmas 1944 the celebration has been repeated annually with , of course, a decreasing number of those who could witness of that first time. But the atmosphere, the ambiance and the sacred place that connects the mysticism of the Christmas story to the mysticism of that dark world under Maastricht, create a monument that is worth to be preserved and cherished together with the tangible memories in De Schark. A monument for our liberators, but also a monument for the peace message, that is so much connected to Christmas.
The connection between the liberation, the new life of Christmas and the peace, of which this celebration is a palpable symbol, is thus given a form in De Schark; an annual visit and a tradition which enrich Christmas in Maastricht.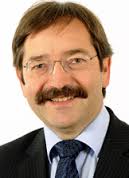 Drs Theo Bovens,
Commissioner to the King
in the Province of Limburg from 1.10.2011 to 19.4.2021